It was a great day when we found Dawn!  It is never easy to leave our house and leave our favorite boy Arrow at home.  Alaskan Malamutes are surely known for their smiles and his is truly infectious.  Unfortunately, he knows when we are leaving and that smile turns to a frown.  Dawn has made it much easier to relax and trust that he will be in good hands.

Dawn's smile matches Arrow's and you can see she loves the animals in her care.  She is professional, thorough and flexible.  We highly recommend her services and can guarantee you will be happy!  Making a choice to choose Dawn is making a choice to the best care available for your pets.
Juli and Bill Marty with "Arrow," Auburn, CA
Both work in the computer field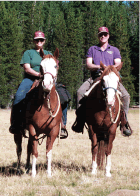 We have used Dawn and her professional Pet services several times.  Our family is extensive, 3 Show horses, 4 Shelties and a cat.  While on one of our trips, she called us one morning to let us know that one of our mares was lame.  She informed us which limb, that there was no apparent injury or swelling and that there was a pulse in the leg.  Dawn spent extra time at the house to watch the mare and make sure she wasn't in need of immediate veterinarian attention.  We stayed in touch with Dawn throughout the morning and started home to verify our suspicions of an old foot abscess flaring up once again in Lee Lee, our mare.  Dawn was able to administer medication to the mare that we suggested, to keep her comfortable, and upon arrival home we were able to start treatment.  We would recommend her expertise to anyone who needs someone confident and reliable to care for their "furry" loved ones.  She knows how to solve problems, pays personal attention to every critter and is passionate about her work.
Richard and Cynara Mursu on "Penni" and "Katie," Loomis, CA
Professional Farrier and Horse breeder/trainer
Professional Dog Groomer/handler


Dawn and her family have stolen our dog's heart. From the moment we hand over the leash with our bouncing 10-month-old French Brittany on the other end, he thinks he's at doggie camp. Not only does he obviously receive lots of TLC – we can count on Dawn to see to it he minds his manners, too. Like us, she believes a well-trained dog is a happy dog.
Dawn is punctual, professional, and willing to work with our special needs. It's always a relief knowing our dog is in such kind and capable hands.

Ben and Sheila Lopez with "Dodger," Auburn, CA


Dawn has been my Pet Sitter for over a year. In that time she has become more than just a Sitter. She made herself available to me 24/7 when I had concerns about my dog's pregnancy, saving me hundreds of dollars in unnecessary veterinary visits. Her years of veterinary experience have been a blessing to me. Not only did Dawn attend the puppies' 4:00 AM birth, she was instrumental in helping me find them loving homes. I highly recommend All Creatures to anyone looking for reliable pet care.
Darrell Cappa with "Rowdy," Auburn, CA
Retired